This Recipe is for a big batch.  I like to make a big batch so we can share it with friends, neighbors and co-workers.  You can always freeze it too if you want.  Just place it in a Ziplock bag or airtight Tupperware and pull it back out after a couple of weeks! 
To make our Chex Mix we started with
3 Cups each of the Wheat, Rice and Corn Chex Cereal
1  1/2 Cups Honey Nut Cheerios
2 Cups Pretzels
1  1/2 Cups Sourdough Nibblers
2 Cups Cheez- It Crackers Original
1 Cup Bagel Crisps
1 C Roasted Cashews
1  1/2 Cups Roasted Peanuts
Mix all the Cereals and Cracker/Nut Accents together in one or two large bowls as needed.  Make sure you have room for stirring in all the butter mix.
For the flavored butter we took 
9 T of unsalted melted butter
1/3 C Worcestershire Sauce
2 T MAD Smoke Original Rub 
3/4 T Kosher Salt
1/4 t Cayenne (Optional)
1/2 T Garlic Powder.
Mix all together and coat your Cereal mix with it.  Mix well but be gentle.  You don't want to break your cereal into pieces.  
Lay it out on two sheet pans and smoke it for 60-75 Minutes at 225-250 Degrees.  Try to stir every 15 minutes and rotate sheet pans if needed.
Check out the video for full preparation and also ideas for all kinds of different Chex Mix!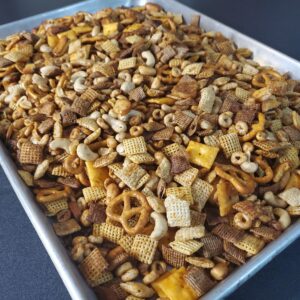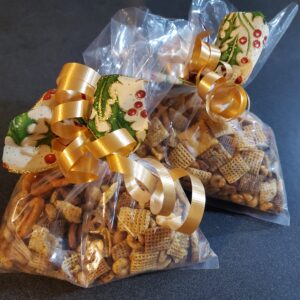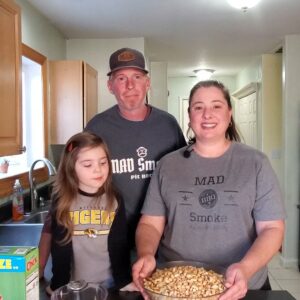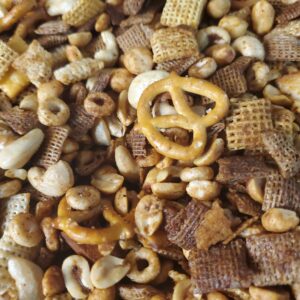 Post Tags