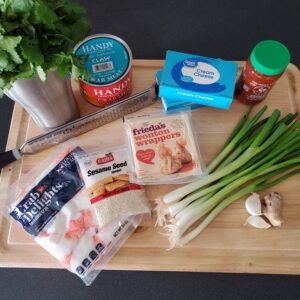 For the crab rangoons
You will need one pack of wonton wrappers
(4-5) scallions or green onions thinly sliced
1/2 bunch of fresh cilantro chopped
1 pound tin of real crab meat (Lump or claw) pick through the crab meat to remove any remaining shell.
One 16 ounce bag of imitation crab meat chopped into small pieces.
Two cloves of garlic (minced)
One small piece of fresh ginger (grated)
Two eight ounce packages of cream cheese (softened)
1/3 Cup of the homemade sweet and sour sauce
1 Tablespoon of soy sauce
Salt and Pepper
Start by whipping your softened cream cheese then add in all other ingredients and mix well.  Reserve some of the Cilantro and Scallions to add to your sauce and to garnish the rangoons with before serving.  Watch instructional video for procedural instructions and how to assemble the crab rangoon.
For the Sweet and Sour Sauce
1 Cup of orange juice
1/2 Cup of rice wine vinegar
1/2 Cup plus 2 Tablespoons of light corn syrup
1-2 Tablespoons of chile garlic sauce depending on your spice preference
(Bring all to a boil and simmer until reduced by approximately half or starts to have a syrup consistency.  Do not over reduce as sauce will thicken as it cools.  When cool add in some of the chopped cilantro and scallions)
For best results freeze crab rangoons on sheet pans over night.  After they are frozen you can bag them up or change into an airtight container.  I like to fry mine from the frozen state as I think you run less risk of having the filling ooze out while frying.  
Serve with the Sweet and Sour Sauce and top with toasted sesame seeds, cilantro and scallions.  Delicious!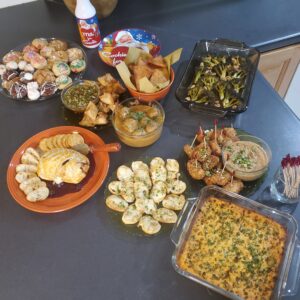 Post Tags