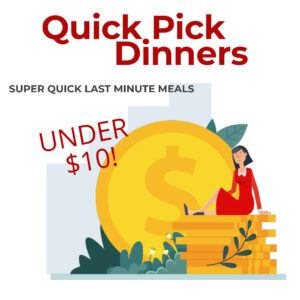 Here's some great dinner ideas to stock throughout the week.  Add one or two to your weekly bin to complete your dinners for the week.  Keep one of the frozen ones on hand for unforeseen circumstances.  These are inexpensive dinners that most of us are already familiar with.  They are a great way to stretch out the weekly budget.  Plus you know you have that quick meal for when you're in a bind.  If you find yourself unable to make the planned homecooked meal you can whip one of these up in no time and keep yourself from ordering in or hitting the fast food.  I'm sure you have lots of your own personal quick pick go to meals.  Here are some of mine.  Eventually these will be linked to the bin shopping list so you can choose quick pick dinners and add them to your shopping list.  I will also eventually be adding a Breakfast and Lunch Idea section as Well. 
Grilled Cheese and Canned Soup – Butter, Bread, Sliced or Shredded Cheese, Canned Soup.  (Add some deli sliced meat to your grilled cheese to make them a little heartier or throw out some Saltines or other cracker for the soup).
Grilled Ham & Cheese with prepared Potato Salad – Butter, Bread, Sliced or Shredded Cheese, Deli Sliced Ham, Prepared Deli Potato Salad.
Chicken Salad or Tuna Salad Wrap and Chips – Large Tortilla Wraps, Deli Prepared Tuna or Chicken Salad, Iceberg Lettuce, Bag Potato Chips.  (Sub Iceberg for Spinach or Mixed Greens, add Diced Tomatoes, Cucumbers, Ranch dressing or Crumbled/Shredded Cheese or Bacon to dress it up).  
Ground Beef Nachos – Cooked Ground Beef, Shredded Cheese or Canned Cheese Sauce, Bag Tortilla Chips.  (Add Canned Black Beans, Jalapenos or top with shredded iceberg, diced tomatoes, avocado or sour cream to add some additional veggies and nutrients) (Sub pulled deli rotisserie chicken for ground beef and your protein is already cooked).
Chef Salad – Deli Meat, Deli Cheese, Lettuce, Dressing.  (Make a deli meat and cheese rollup with meat and cheese of your choice, place on mixed greens/lettuce of choice, serve with dressing and top with optional hard boiled eggs, radishes, cucumbers, diced tomatoes etc…Check out Bin 16 for a Chef Salad Presentation). 
Frozen Corn Dogs & Tater Tots – Frozen Corn Dogs, Tater Tots, Ketchup, Mustard.  (Add some canned veggies or fresh baby carrots for a veggie addition)  I also like to do Corn Dogs with canned Baked Beans and canned or frozen veggies for a quick easy hot dinner.
Frozen Pot Pies, Bagged Salad, Dinner Rolls – Prepared frozen pot pies, bagged salad or deli salad bar salad, frozen or fresh dinner rolls.  
Frozen Fish Fillets or Sticks, French Fries & Cole Slaw – Frozen Fish Fillets, French Fries, Deep Fryer Oil if Needed, Deli Prepared Cole Slaw or other vegetable side or make your own slaw with bagged slaw mix. 
Spaghetti, Salad, and Bread – Spaghetti, Spaghetti Sauce, Bagged Salad Mix or Mixed Greens and Veggies of Choose, Deli/Bakery prepared or frozen Garlic Bread.  (Add ground beef or prepared cooked meatballs.  Another idea is to make homemade meatballs and bag and freeze to have on hand as needed.  You can microwave from frozen to thaw and warm.  Check out Bin 4 or Bin 9 for the recipe and optional ideas.  
Quesadillas – Small or Large Flour Tortillas, Shredded Cheese.  (Add cooked ground beef, pulled rotisserie chicken, cooked chicken breasts, chopped bacon, canned black beans or a combination of fillings to quesadillas, serve topped with sour cream, salsa, jalapenos, guacamole or avocado.  Serve with Shredded Iceberg Salad or Canned or Deli Prepared Chili. 
Macaroni and Cheese – Boxed Macaroni and Cheese.  (Add in pulled Rotisserie Chicken, Canned Chicken or other protein to the Macaroni,  or serve with thin cut pork chops that can be cooked in Five Minutes.  Serve with canned green beans or fresh veggies.    
Hot Diggity Dogs – Hot Dogs, Buns, Desired Condiments, Serve with deli prepared salads, box mac and cheese, canned corn or other veggie, potato chips, canned baked beans.  Topped with canned/prepared chili and shredded cheese for quick chili cheese dogs.
Prepared Frozen entrees or Meals – Check your freezer section for items you can have on hand and prepare with ease.
Rotisserie Chicken Wraps – Pulled Rotisserie Chicken, large tortilla wraps, lettuce, diced tomato, shredded cheese and ranch (serve with deli prepared salad, potato chips, deep fried onion rings, tots or fries, canned/frozen veggie or canned/fresh soup)  You can also do a buffalo style wrap with rotisserie chicken, blue cheese, iceberg, and buffalo sauce, serve with carrot and celery sticks.  
Caprese Sandwiches or Salad – Fresh Tomatoes, Fresh Sliced or Ciliegine (small balls) Mozzarella, Prepared Pesto, Balsamic Vinaigrette or Balsamic Vinegar and Olive Oil, Fresh Basil (if affordable), Leafy Lettuce,  Baguette. (Check out the quick pesto blog or easy vinaigrettes blog if you would like to make your own pesto or balsamic vinaigrette).  
Prepared Stuffed Pasta and Sauces – Check your supermarket refrigerator section usually next to the deli for prepared stuffed raviolis, tortellini, and other pastas, pair with prepared sauce, frozen/fresh prepared garlic bread.  Add some frozen peas to the pasta or serve with bagged salad mix to get some veggies.
Seafood Tostados – Deli Prepared Shrimp Salad, Julienned Iceberg, Avocado, Shredded Cheese of Choice, Diced Tomatoes and Jalapenos, Crispy Tostado Shells
Fried Bologna and Egg Sandwiches, Chips – Butter, Bread, Bologna, Sliced Cheese, Eggs, Chips (Fried Bologna and Egg Sandwiches are good anytime)
Pizza or Pizza Bread – Pepperoni, Shredded Italian Cheese, Pizza Sauce, Prepared Pizza Crust or French/Italian Loaf Bread  (You can put any toppings on these,  I often do a clean out the fridge type pizza.  It seems like anything is good on pizza!)
Frozen Pizza and Salad – Frozen Pizza, Bagged Salad Mix, Dressing 
Frozen Wings, Chicken Tenders or Nuggets – serve with Soup, fries/tots, salad or canned/frozen veggie.  
Tamales – Canned Tamales, Boxed Mexican Rice, Julienned Iceberg Salad with Diced Tomatoes, Salsa Ranch
Market Fresh Deli Sandwiches – Gourmet Loaf Bread, Desired Cheese, Desired Sliced Deli Meat or Prepared Chicken/Tuna Salad, Leafy Lettuce, Tomato Slices, Desired Condiments (Add some sliced peperoncino or bread and butter pickles for a little extra flavor) serve with chips. 
Meatball Hoagie or Chicken Parmesan Sandwich – Prepared Meatballs or Frozen Round Breaded Chicken Cutlet, Prepared Spaghetti Sauce, Italian Cheese if Desired, Hoagie Bun or Round bun for Chicken Parmesan. Serve with Chopped Romaine and Caesar Dressing.   Again you can have your own prepared frozen meatballs on hand.  Check out Bin 4 or Bin 9 for the recipe and optional ideas.
Hamburger Steaks – Use Same recipe from Bin 4 and Bin 9 to have Hamburger Steaks frozen and on hand.  Simply Microwave to thaw and warm to temp.  Serve with BBQ Sauce or Canned Brown Gravy, Instant Mashed Potatoes, Canned/Frozen Veggies.
Hamburger Helper – Enough Said 😉
Breakfast – Most Breakfast Ideas can always make a quick dinner.  Refrigerated Biscuits, Canned Sausage Gravy, Sausage Patties, Eggs, Pancakes, etc….breakfast scrambled tortilla wraps, breakfast sandwiches.  Breakfast for dinner can always be a quick cheap option.
Tacos – Pulled Rotisserie Chicken, Hard or Soft Shells, Shredded Lettuce, Cheese, Salsa, other optional toppings (Onion/Scallions, Avocado/Guacomole, Tomatoes, Jalapenos) serve with boxed Mexican Rice or Tortilla Chips 
Pitas – Pulled Rotisserie or Grilled Chicken, Prepared Hummus, Pita Breads, Prepared Cucumber Salad if available, serve with chips or canned/prepared soup.  (You can also make your own Cucumber Salad in no time at all.  Check out Bin 15 for Recipe).
Chicken or Tuna Salad Pitas – Prepared Chicken or Tuna Salad, Lettuce, Pita Breads
BBQ Sandwiches – Prepared BBQ Meat, Bun serve with Canned Baked Beans or Corn on the Cob.
Make Shift Tuna Nicoise Salad – Lettuce or Mixed Greens of Choice, Topped with Prepared 3 Bean Salad, Prepared Potato Salad, Black Olives, Canned Tuna and Tomato Wedges, Serve with Sliced Baguette or Crackers and additional Italian Vinaigrette if needed.  Check out easy vinaigrettes blog for homemade salad dressing ideas.
BLT's and Chips – Bacon, Leafy Lettuce, Sliced Tomatoes, Bread, Desired Condiments, Mayo, Cheese etc… Serve with Chips  (You can also add some Sliced Turkey to make it a Turkey BLT).
Doctored up Ramen Noodles – Doctor up your Ramen Noodles with Rotisserie Chicken, Frozen Veggies, Ginger sauteed Beef Tips and Mushrooms with Soy Sauce, Frozen Stir Fry Veggies, sauteed Chicken, scramble an egg in it (like egg drop soup), Diced Zucchini and Julienned Pepperoni, Julienned Spinach leaves and canned Chicken, Shrimp, Tuna or Salmon.  
Deli Hoagie – French Bread Loaf, Desired Cold Cuts, Desired Sliced Cheese, Desired Condiments.   Serve with Chips or Prepared Deli Potato or Pasta Salad.  Take a loaf of French Bread and make a giant cold cut Hoagie.  Slice into pieces to serve.  Make it as simple as you want or go all out.  Check out Bin 16 for a gourmet, hot melty version with homemade pasta salad.  
Post Tags